Club History
The Lightweight Land Rover Club was conceived in 1990 when a group of owners checking in entrants for the Lancashire & Cheshire National Rally observed that while there were clubs for other marques of Land Rover, there was nothing for the Lightweight (Air Portable).
They took the decision to rectify this by founding a club for Lightweight owners and admirers that would provide advice and support as well as fun and friendship based on a shared love of Lightweight Land Rovers.
Not expecting much of a response, a letter was published in Land Rover Owner magazine advertising the formation of the new club and within days of publication we had almost 40 enquiries. The next step was to apply for membership of the Association of Land Rover Clubs and by 1991 the Lightweight Land Rover Club was officially born.
We attended our first show as a club in 1990 at TrenthamGardens. Although we had a good pitch with four motors on display, things didn't warm up until our Chairman was inspired to put up the bonnets on two of the vehicles. Within minutes there were bottoms sticking out from under hoods and the sound of laughter and excited chatter ("Oh, mine leaks there as well!") which set the tone for all our future show appearances.
We later learned that the first ever Billing Show had been held on the same weekend. The Club has been a regular feature at Billing ever since and it is the venue for our AGM and Annual Club Barbeque, held on the Saturday, to which all are welcome. We also regularly attend LRO Peterborough and Driffield as well as showing regularly at Gaydon, Stoneleigh, Eastnor and many classic vehicle and militaria shows across the country.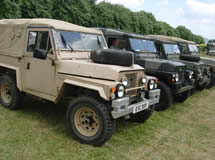 Right from the beginning our philosophy has been about using, enjoying and promoting these unique vehicles and that ethos is as true today as it was in 1990. We are not precious about what you do to your Lightweight as long as you love it. We have vehicles lovingly restored to factory standards, fully equipped and restored military vehicles, rugged offroaders, and glossy, brightly coloured chrome-clad beauties that would grace a rock star's collection!
Over the years our membership has grown significantly and we are now a truly international Club with members from as far afield as Poland, Denmark, India USA and Australia .
In this age of digital communication we keep in touch instantly via our Facebook Group which offers advice, help and support.
Our officers and members are passionate about helping other LWT owners and can offer advice on every aspect of buying, maintaining and using your Lightweight. Whether you are interested in restoring it from the ground up, sourcing original military equipment, fitting and using a winch bumper or painting your Lightweight fluorescent pink, we have someone with the knowledge and enthusiasm to help you.
Above all, we pride ourselves on being a friendly, welcoming Club with a diverse membership from a range of backgrounds, ages, nationalities and ethnicities all united by a shared passion for the Lightweight Land Rover. We work hard to make ourselves accessible to everyone including people with disabilities, and children and dogs are always welcome.
We hope you will come and see us at one of the shows for a drink and a chat, join our Facebook Grou. We can guarantee you a warm Lightweight Land Rover Club welcome!